Another successful show at SteelFab
4th February 2011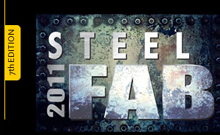 Last month STRUMIS LTD exhibited at SteelFab in Sharjah, UAE.
This event is a regular fixture in the STRUMIS LTD calendar and each year seems to be bigger and better. Given the recent construction investment uncertainty in the region, both the show and STRUMIS ME seem to bucking the topical climate and proving that progression is still very much at the heart of the region.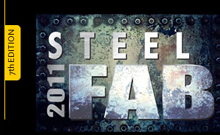 Attendee levels were strong and STRUMIS LTD anticipates increased demand as a result of show attendance, new relationships, and with STRUMIS' solutions for the AEC, Plant and PEB sectors received with enthusiasm. Similarly the STRUMIS seminar on Software Applications for Steel Fabrication Efficiencies also met with approval. Regional Commercial Manager, Dr Auday Alrawe commented; "The growth in our business across the regions stems from hard work and dedication to providing what our clients want. With many of the influential larger steelwork fabricators investing in STRUMIS LTD's advanced solutions, we are seeing a trend of companies following on their example."
The STRUMIS LTD international event team will move focus to the USA in March. To find out more about our international events see us on Facebook for regular updates.