The Ordsall Chord Viaduct includes the first network arch bridge to be built in the UK, and the first asymmetric (tapering) network arch anywhere in the world.
As the SSDA awards celebrate their 50th year of recognising the best of what the UK steel construction industry can achieve, we celebrate that 77% of the projects feature STRUMIS customers. In this post we will be celebrating Severfield's involvement in the The Ordsall Chord Viaduct project.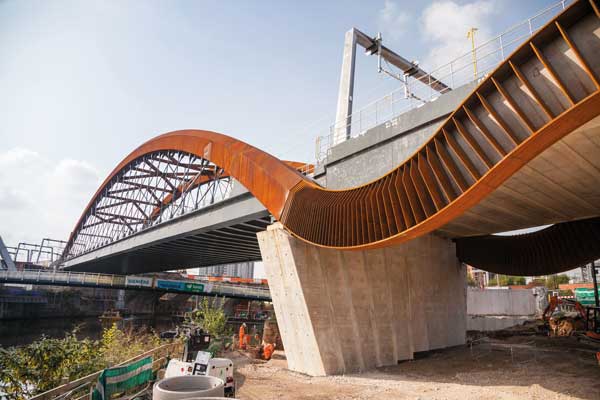 Photo © Matthew Nichol Photography
The Ordsall Chord Viaduct
Architect: BDP
Structural Engineers: AECOM Mott MacDonald JV
Specialist Designer: Knight Architects
Steelwork Contractors: Severfield
Main Contractor: Skanska BAM JV
Client: Network Rail
The Ordsall Chord Viaduct is the iconic centrepiece of the new elevated railway that connects Manchester's three main railway stations for the first time.
It carries a new two-track railway across both the River Irwell and Trinity Way dual carriageway. It sits next to major heritage structures, part of the historic 1830 Liverpool to Manchester Railway, the world's first inter-city railway.
The context required a design which was of the highest architectural quality, with a structure which would act as a landmark without dominating surrounding buildings.
An 89m span network arch structure was chosen for the main river span, combining great strength and stiffness with a relatively low profile. A 100m long twin girder bridge was selected for the spans over the roadway.
All parts of the viaduct are integrated visually to appear like a single ribbon of weathering steel, tapering at both ends, and sized to suit the specific structural requirements on the individual spans.
"From the early stages of design, weathering steel was considered to be the ideal surface finish for the structures. It provides an honest expression of the material in terms of its function, colour and texture, echoing the historic masonry that sits alongside," explains BDP Architect Director Peter Jenkins.
The preliminary design concept illustrated box girder structures throughout the length of the viaduct. The design was modified during the design-and-build phase, adopting box girders for the arch ribs but stiffened plate I-girders for the spans over the highway. This reduced construction cost and simplified future maintenance requirements.
Steel was the most cost-effective solution to satisfy the client's structural performance requirements and also the desire for an elegant, iconic structure. Steel was ideal for the offsite manufacture of a highly geometrically complex structure, and allowed an efficient construction methodology to be developed.
To read the full article visit the NSC website
https://bit.ly/2PAEfJ9