"It is a team effort, so we're absolutely thrilled for all our
employees to win these awards. It's testament to many years
of hard work, endeavour and determination."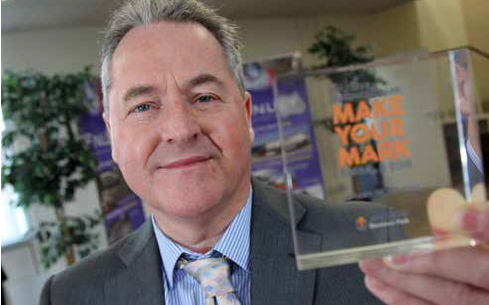 Finley Structures was named Company of the Year at Aycliffe Business Park's Make Your Mark awards ceremony, held at the Xcel Centre.
The fabrication firm, which is based in the former British Steel factory on Aycliffe Business Park, beat off competition from Hitachi, Gestamp Tallent, Samwon, Baltic Training Services and Caring Caretaker to scoop the top prize at the February bash. Finley Structures announced a record turnover year in 2015, with sales growing to £16.4m – up from £10m four years ago. High-profile contracts, including Hitachi
Rail Europe's new facility, also included a new 1,400-tonne factory for Nissan at Washington, a 2,300-tonne project at the Victoria Gate shopping centre in Leeds, the 500-tonne Sports Village in Middlesbrough and a 300-tonne frame for the £38m National Biologics Centre in Darlington. Finley Structures also completed a 500-tonne project for Teesside University and a 620-tonne contract for the University of Sheffield's Advanced Manufacturing and Research Centre (AMRC) to round-up a busy
year.
The company was launched by John Finley in 2000 and was originally based at the former NCB Works in Tursdale near Bowburn with 20 staff.
It was only when, during a chance drive-by in 2002, the opportunistic John spotted the 87,000 sq ft factory, once home to British Steel, being emptied by its tenants at the time, Alexander-le-Skerne, that he stopped by to have a look.
"We were outgrowing our site at Tursdale
and were looking to relocate,"
says John. "
It was just by chance I drove down
Whinbank Road one day and saw it being
emptied, so I just went in for a look around,
and I remember thinking to myself , I can see
Finley Structures thriving in here."
"We eventually did the deal to buy the
building and moved in. We invested £250,000
in the place in 2003 so it was a lot of money
for us back then, and the business started to
grow."
"I initially thought we would rent part of
the building out to help pay the bills but we
quickly started to fill it out and before long
we were looking to expand again. We then
bought other adjoining buildings in 2010
and our sister company, SCH Site Services,
relocated there in order to grow and is now
thriving in its own right."
Finley Structures is a truly family-run firm. John's wife Valerie is a company director and was a part-time receptionist until retiring in December, while daughter Julie is joint managing director and son Gary is joint managing director of SCH Site Services.
Combined, the two companies employ 104 people, while the new family venture, ROF 59 – an activity centre which was also named Newcomer of the Year on Wednesday night – employs a further 30 staff.
After building a firm which has grown in stature and profile and created employment for local people, John says picking up both awards is a career highlight.
The 63-year-old, originally from Esh Winning who now lives in Spennymoor, added:
"We're a family firm but I'd like to thank all our staff, because we wouldn't be where we are now without them and the brilliant work they do for us."
"It is a team effort, so we're absolutely
thrilled for all our employees to win these
awards. It's testament to many years of hard
work, endeavour and determination."
"I'd also like to thank HSBC for the fantastic
support they have given us over the years.
Today we're virtually debt-free, but previously
we were turned down by a bank we'd been
with for 10 years when we needed cash to
invest in acquiring property to expand. If
it wasn't for HSBC we wouldn't have been
able to invest in the buildings and in new
machinery, so we wouldn't be where we are
today."
"Winning big contracts is an achievement
and getting the Hitachi project from Shepherd
Construction was, of course, a highlight and
major boost for the company in terms of
profile, but in all my years in business these
are our first awards, so I am very proud."
The Company of the Year award, sponsored by Business Durham, was presented to the Finleys by Councillor Neil Foster, Durham County Council's cabinet member for economic regeneration.
"I'm delighted for Finley Structures as a local
family firm which has achieved a lot not only
in the last year but over several years,"
said Clair Foster.
"It's important that we celebrate our success
stories with business awards like Make Your
Mark and it's brilliant to see Aycliffe Business
Park thriving as it is. It's really leading the way
for County Durham."
Other Make Your Mark winners included Baltic Training (Apprenticeships), Formula Plastics (Engineering and Manufacturing), Lostbox (Innovation), Beaumont Grounds Maintenance (Service), Tekmar Energy (Export), Luke Reynolds, Gregg Little Testing Centre (Apprentice), ROF 59 (Newcomer), Workshop Supplies (Small Business), Caring Caretaker (Employer) and Newton Press (Heart of the Community).