Partnering the Steel Long Products Summit
14th July 2014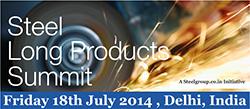 STRUMIS LTD is delighted to be a Partner at this year's Steel Long Product Summit 2014 in Delhi, India on 18th July, 2014.
Indian steel industry has shown remarkable growth pattern in recent decades with the rapid growth expected in the near future will be maintained with higher milestones. With the changed market scenario, there is a challenge in the whole industry and much higher in long products. Customer's expectations have increased and the awareness is also at its highest.
Steel long products processing dominated equally by big steel companies as well as by medium and small company and a large number of steel processors. There is a need for information and networking amongst all the channels involved as well as with the end users of long products.
STRUMIS LTD's Regional Director, Mr Abhilash Joseph is delighted to have the opportunity to present to the audience and discuss matters relating to 'Cost Reduction in the Steel Fabrication'. Mr Abhilash Joseph comments, "We are pleased to be considered to present at this seminar. We want to create awareness amongst steel fabricators about cost reductions available to them through software initiatives like STRUMIS. Software applications such as STRUMIS - steel fabrication management information system - can provide instant return of investment with improved efficiency and increase profitability for their steel fabrication business."
Benefits of attending:
Networking with peers in the steel industry.
More information here: