STRUMIS LTD proud to be at METALCON International
6th October 2011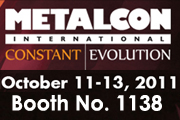 From October 11-13, 2011, in Atlanta, Georgia, USA, STRUMIS LTD is proud to be at METALCON International.
In collaboration with the Metal Construction Association, METALCON International aims to increase the awareness and usage of metal as a building and roofing material. Focused on the metal construction professional, METALCON International intends to be the one event for the industry to learn how to incorporate metal into the design, build, construction and roofing process.
For the second year running, STRUMIS LTD will attend, exhibit and present its solutions for the structural steelwork supply chain, including engineering, detailing, BIM and fabrication management products. STRUMIS LTD's team will present live the benefits and advantages of using advanced software technology for metal based construction projects, focusing on cost and time savings, and supply chain interoperability.
To find out more about STRUMIS LTD and our attendance at METALCON International, contact us on marketing@strumis.com