STRUMIS LTD and Tekla Middle East collaborate to present a Steel Seminar Live in Doha, Qatar on the 11th September, 2013 at the Millennium Hotel.
A unique opportunity to witness a live demonstration making your Steel Fabrication Business more efficient and successful by using the latest BIM technology in steel detailing and data management information software solutions!
With BIM being mandated on construction projects in preparation for FIFA World Cup 2022, it is imperative for you to stay ahead of the competition. By attending this live presentation you will see just how STRUMIS LTD and Tekla, the leading structural software solutions worldwide, can integrate together to provide you with the competitive edge required to succeed in reducing your costs and maximising your profits!
Who Should Attend?
Owners, General Managers, Estimating Managers, Engineering Managers, Production / Operation Managers.
This is a Key Steel Live Seminar; seats are limited and are available on a first come first served basis.
Detailed agenda:
Click here to read the full agenda, including presenters
Seminar Date:
September 11th, 2013
Venue:
Millennium Hotel Doha, Jawaan Street, Al Sadd, Doha NA, Qatar
Media Partner: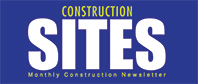 All product and company names, images, models are the trademarks and/or registered trademarks of their respective owners.