Webinar: Planning & Scheduling
31st July 2013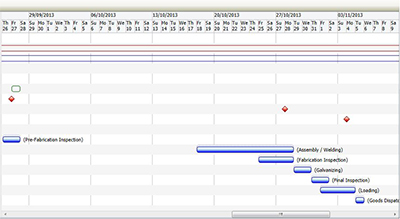 Upcoming webinar focuses on Production Planning and Scheduling within STRUMIS
Planning and scheduling tools within STRUMIS allow users to profitably and effectively manage projects from every aspect.
STRUMIS provides a powerful and user friendly solution so key information on project forecasting can be established, edited and tracked during the course of the job.
In depth date planning facilities allow for easy breakdown of projects at in-house and subcontractor level.
Production may be scheduled via user defined process packages which provide accurate timings and costs for the fabrication, delivery of items.
Visualisation of project planning and sequencing is undertaken via integrated and independent BIM model viewer packages.
What's covered in this webinar:
An introduction to planning and scheduling with STRUMIS
Managing multiple facilities and contract prioritisation
Planning loads and schedules via BIM model viewers
Date planning for key project milestones
Long range planning
Production and process timings
Detailed planning for project breakdowns
Planning for sub contract work
STRUMIS is an all encompassing steel fabrication management information system that harnesses the information flow and work processes through the steelwork contract between departments, suppliers and clients; from estimate tendering, through procurement and production into construction.
Watch recent webinars on our YouTube channel here