STRUMIS LTD exhibits at SteelFab 2012
5th January 2012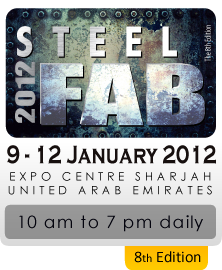 STRUMIS LTD exhibits at SteelFab 2012 - See the team on stand 182
SteelFab, the only sourcing platform in the Middle East that caters exclusively to the needs of the region's steelwork industry, made its debut in 2004. The event is the largest of its kind in the Middle East and Africa and is now established as the Middle East's largest display of steel fabrication machinery and associated engineering products. SteelFab is considered a definite visit by anyone engaged in the structural steelwork sector and STRUMIS LTD is proud to have supported the event from the start.
At SteelFab STRUMIS LTD will be presenting the cost savings and efficiencies that are possible for steelwork fabricators through adoption of the STRUMIS estimating, STRUMIS fabrication and information management suite and soon to be released new BIMReview. Also to be featured will be the StruCNC CAM/CNC editing tool and the STRUMIS Supplier system for steelwork material suppliers (steel mills and stockists).
The STRUMIS LTD team will be on stand 182 and will be available to discuss your fabrication requirements and to show how STRUMIS products can enable you to fabricate, collaborate and deliver your steelwork projects more effectively.
If you would like to reserve a personal meeting with the STRUMIS LTD team during the SteelFab event, please contact us on marketing@strumis.com