STRUMIS Sponsor SMMH 2012
11th October 2012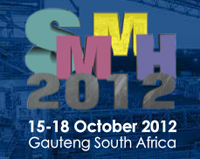 STRUMIS LTD is delighted to be sponsoring the 2012 Structures for Mining and Materials Handling (SMMH) conference 15-18 October in Gauteng, South Africa.
Hosted by the Southern African Institute of Steel Construction, the SMMH event is an international conference focussing on structures for mining and related materials handling which include, structures for support, chutes, silos, bins and a variety of other structures. Aimed at designers of structures, fabricators and erectors, as well as those operating and maintaining plant, the SMMH event will appeal to a wide audience range.
An impressive conference program focusing on both structural design and maintenance is combined with an exhibition featuring over 20 exhibitors. STRUMIS LTD is delighted to be also exhibiting and welcomes any delegate registered/attending the SMMH to visit our stand where we will be demonstrating our solutions for efficient structural steel fabrication and construction.