Waste reduced for Tata BlueScope
18th September 2012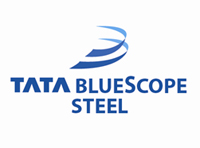 STRUMIS LTD are pleased to announce that Tata BlueScope, one of the leading PEB companies in the SAARC region, have decided to implement STRUMIS into their business. The Building Solutions business division of Tata BlueScope Steel has implemented the STRUMIS steel fabrication solution to increase productivity and efficiency throughout the production process.
Within STRUMIS you can automatically optimize your inventory through the nesting of steel items, minimising waste whilst maintaining the highest standards. The integration between STRUMIS and Tata BlueScope's Messer Hypertherm Plasma Cutting Machines has resulted in a reduction of wasted materials by almost 50%.
The estimating module of STRUMIS, has also proven to be a very important aspect of the software solution for Tata BlueScope Building Solutions by enabling automatic generation of tenders and allowing the import of BIM models into the software. This aspect of STRUMIS gives the Building Solutions business the ability to submit highly competitive tenders, while ensuring that acceptable profitability is achieved by incorporating all fixed and variable costs into the estimate via parametric relationships.
S. Mahesh, Chief of Engineering at Tata BlueScope Building Solutions, commenting on the successful implementation of STRUMIS, said; 'Having reviewed all available options, we found that STRUMIS provides a complete solution for integrating our BIM workflow into fabrication. It provides us real benefits such as savings in the associated time as well as enhanced accuracy in estimating and tendering.'