We are hosting at SteelDay Event
17th September 2012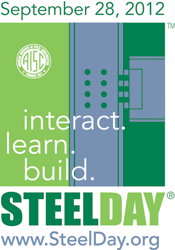 We are hosting a SteelDay event on Friday September 28th 2012
Have you seen what we do?
STRUMIS LTD has teamed up with the American Institute of Steel Construction (AISC) for SteelDay, and we'd like to invite you to attend our online webinar - More Efficient Steelwork Fabrication with STRUMIS on September 28th, 2012.
SteelDay, hosted by the American Institute of Steel Construction (AISC), is an annual national event dedicated to providing the AEC community with accessibility to the latest happenings in the structural steel industry. SteelDay events are scheduled across the United States for the AEC community to tour facilities and jobsites, attend educational seminars, network, and see how the structural steel industry is contributing to build America. All events are free of charge and a certificate of attendance will be provided. More information can be found at www.SteelDay.org.
The STRUMIS more efficient steelwork fabrication webinar will show you how steelwork projects can be progressed more effectively from a BIM model to an erected structure. Estimating and tendering, contracts management, purchasing and inventory management will all be covered; emphasising a streamlined workflow that delivers both time and cost savings. Moving into production our webinar will show you how STRUMIS can integrate with your CNC machinery and benefit your business into shipping and erection with real time visual piece tracking in a 3D model.
As concerns over the economy linger, building professionals want to reduce their risk and control their costs more than ever. Increasingly they also need to be sensitive to the environmental impacts of their projects. Building with structural steel is one very effective strategy toward meeting these goals and ensuring a successful project is delivered on time and on budget.
If you'd like more information don't hesitate to contact us on marketing@strumis.com