An interview with Tekla Oyj
22nd June 2012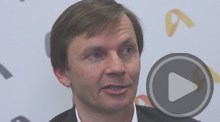 At the recent STRUMIS LTD sales meeting we were delighted to welcome Mr Risto Raty, Executive Vice President of Tekla Corporation, who was delighted to be interviewed on a range of topics.
The integration work between STRUMIS LTD and Tekla for STRUMIS and Tekla Structures respectively will enable a complete solution and extension of BIM data into fabrication through seamless workflow for efficiency, error and cost reduction, increased productivity and superior business advantages.
Spokesperson commenting for STRUMIS LTD stated 'the excellent partnership that we have with Tekla enables us to supply a superior business solution to our clients and through best of breed partnership deliver a unique package for extended fabrication benefits to the structural steelwork industry'.