Piece Monitoring Batch Update
24th December 2004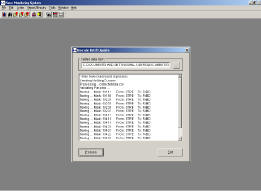 STRUMIS LTD is pleased to announce the release of the Piece Monitoring Batch Update system for STRUMIS, allowing the production system to be fully integrated with bar-coding technology. This enables the shop floor to batch process recorded work within STRUMIS at the touch of a button.
Updating the STRUMIS system through the batch update brings many advantages to the user, as well as the massive increase in time saved, the system also vastly reduces human error and provides accurate and up to date information on contracts.
STRUMIS utilises Data Collector Barcode Scanners for the Piece Monitoring System (PMS) and "fixed-wire keyboard wedge" scanners for the Production Automation System (PAS) used for the update of cut/drilled/shaped status.
The Piece Monitoring Batch Update System is available now, please contact sales@acecadsoftware.com for further details.