Roof India 2012
16th May 2012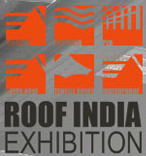 STRUMIS LTD India is again delighted to participate in ROOF INDIA, which will be held from 25-27 May at the Chennai Trade Centre, Chennai, India.
ROOF INDIA 2012 is now the benchmark event in Asia for Roofing, Cladding, Pre-Engineered Buildings, Metal Building Systems, Tensile Architecture, and Machinery. India is today the 2nd fastest growing major economy in the world and a booming economy has strengthened the Construction & Infrastructure sector. STRUMIS India is delighted to be exhibiting and showcasing our solutions for structural steelwork fabrication management and our new construction Supply Content Management (SCM) platforms to manage Building Information Modeling (BIM) data.
STRUMIS Management Information System for steelwork fabricators and delivers time, cost and process savings for greater efficiencies, traceability, productivity and profitability. BIMReview is the first release in STRUMIS LTD's new BIM solutions for managing supply content from design to the construction site and delivers a consolidated BIM platform for project collaboration, improved workflow and construction management.
If you are visiting the ROOF INDIA exhibition we welcome you to our stand and if you would like to arrange a personal demonstration please contact us on marketing@strumis.com