STRUMIS participate at Metal Buildings & Steel Structures Expo 2012
26th March 2012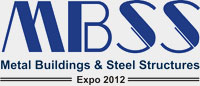 STRUMIS LTD is delighted to be again participating in the Metal Buildings & Steel Structures Expo 2012.
MBSS 2012 is India's flagship event on Steel Structures & Allied Products is to be held this year from 12th to 14th April, 2012 at Bombay Exhibition Centre, Mumbai (INDIA).
MBSS 2012 is designed to promote the use of steel and allied metals in construction and serves as a platform to showcase the latest products & innovations in the industry. The 4th Edition of MBSS in 2012 is planned to focus on infrastructure/industrial projects and also the high rise buildings sector. MBSS 2012 is set to build on the phenomenal success of its earlier editions held in Chennai, Pune and New Delhi and is poised to set new standards in terms of footfalls as well as business opportunity.
STRUMIS India are delighted to be also exhibiting at the event and will be demonstrating the latest STRUMIS evolution product suite for the steelwork industry covering; estimating/tender preparation, customers and sales, inventory control, purchasing and suppliers, contracts management, budget analysis, production control, document management, through to site coordination. STRUMIS LTD's message for MBSS 2012 will focus on extending the benefits of BIM into the construction phase and particularly within this sector, extracting and managing the data efficiently across the structural steelwork fabrication process, providing tangible benefits to the contractor. STRUMIS LTD will also be previewing our new BIM collaboration and data management software suite which revolves around putting the information generated across the BIM process to work for the benefit of the construction supply chain.