A.C. Bacon Engineering selects STRUMIS
29th February 2012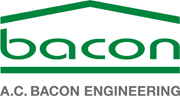 STRUMIS LTD is delighted to welcome A.C. Bacon Engineering as a Client, following their recent decision to invest in the STRUMIS Management Information System.
A.C. Bacon is located in Hingham, Norfolk, UK and is a full service structural steelwork fabricator, providing project delivery from start to end. They provide structural steelwork across several sectors including agricultural buildings, sub contract general buildings including offices and sports halls, and various industrial applications. Following investigation into steel management information and production systems the A.C. Bacon team recently selected STRUMIS and will be implementing the system across their state-of-the-art facilities next month. A spokesman for A.C. Bacon, commented; 'we were impressed by the functionality of the STRUMIS system which covers our requirements from estimating through production and delivers the management reporting we require, together with integration with our other systems'.
STRUMIS LTD's Sales Manager, Mr Steve Watson, commented, 'we are delighted to welcome A.C. Bacon as a new STRUMIS Client and look forward to working with them'. He continues, 'A.C. Bacon is an exceptionally well run facility and I believe that the STRUMIS system will benefit them significantly as will new integration work we are undertaking with our partner Tekla'.
About A.C. Bacon Engineering
For over 50 years A.C. Bacon has created a reputation for customer satisfaction second to none. A.C. Bacon deliver the complete structural steelwork project service and currently employ 85 people; including their own draughtsmen, workshop operatives and steel erectors, and utilise their own cranes and access platforms. They have invested substantially in extensive production capabilities including state-of-the-art cutting, drilling and punching lines, enabling the fabrication of over 100 tonnes of structural steelwork per week, together with shot-blasting and painting equipment for finishing to individual requirements. AC Bacon Engineering Ltd is also a proud holder of the Royal Warrant of Appointment as a tradesman to The Queen for the manufacture of steel-framed buildings. http://www.acbacon.co.uk/
About STRUMIS LTD
STRUMIS LTD is a leading developer of software solutions to the international structural steel industry since 1986. With core business areas in the AEC Building and Construction industry, STRUMIS products have consistently transformed its customers' business in the steelwork fabrication supply chain. Our products include BIM collaboration and STRUMIS fabrication management software suites. STRUMIS LTD has international sales, training and support operations in 10 countries and customers around the world.