STRUMIS LTD today makes public the new name and branding for its new solutions and soon to be released redeveloped product suite. The Evolution series as it is to be known reflects the substantial step forward in technologies and working practices for the steel engineering and fabrication industries resulting in significant productivity gains through advanced interoperability and communication tools.
Advanced Software Development
STRUMIS LTD is moving forward and has invested considerable additional resource into advanced software development technologies over recent years. With the very latest SQL Server 2008 and Visual Studio 2008 .NET technology our software products are set to be the most advanced in the industry and will ensure that our client's investment in our products is not only future proofed and secure, but continues to be the benchmark for the industry. This development process is in its final stages and testing, and will culminate in several exciting and industry first new product releases next year.
Unique Solutions
Together with a reinforced focus on delivering exceptional and unique benefits throughout the steelwork engineering and steelwork supply chain, STRUMIS LTD has pioneered solutions for the AEC and Plant sectors incorporating our Fabrication Information Modeling (FIM) methodology. FIM delivers competitive advantages to our users engaged in the structural steelwork delivery vertical and reinforces Building Information Modeling. Next generation interoperability within our new product suite will change the future of steelwork construction.
Strengthened Teams
Alongside this advanced software development and solution focus, STRUMIS' team has also evolved through significant restructuring and investment in personnel across all functional areas of the business. With strengthened development teams both in the UK and internationally, alongside larger regional offices, STRUMIS LTD is prepared to meet and exceed the industries expectations around the world.
STRUMIS LTD's Evolution
Superior software development for advanced cutting edge product realisation, industry unique solutions and exceptional personnel represent the culmination of substantial planning for STRUMIS LTD and an exciting evolution. With this in mind, STRUMIS LTD has rebranded our solutions and products accordingly to reflect this evolution in our business.
"STRUMIS LTD has always been at the forefront of bringing technology and process driven productivity improvements to the industry. The restructuring of the business has allowed STRUMIS LTD to return to our core values and beliefs of not only supplying productive tools to the industry but of research and development to bring to market new processes and mechanisms through the adoption of cutting edge technology. The Evolution series is the first of many new elements of STRUMIS' Evolution". Mr R Brotherton, Director
This change in naming convention and branding will be rolled out across all of STRUMIS LTD's marketing collateral and throughout our channels. We will be previewing our exciting new software technologies over the coming months across the STRUMIS LTD websites and at international road show events.
The Winning Name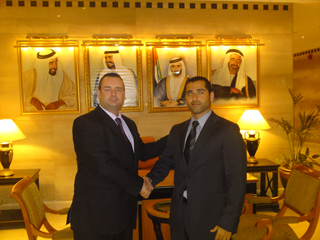 The Evolution series name was suggested by Mr Nayef Abdulrahman, from STRUMIS' Middle East office and was selected following considerable thought as being most appropriate representing both continued solution and product innovation for the structural steelwork industry. Mr Steve Watson, Business Development Manager (pictured left) personally congratulated Mr Nayef Abdulrahman at a recent convention held in Dubai. Mr Nayef Abdulrahman stated, "I am delighted that the word 'Evolution' will be adopted as it represents a true reflection of the unique solutions and advanced development associated with STRUMIS' products". Mr Watson stated, "STRUMIS continues its product development commitment made to its users; providing both productivity benefits, leading to unique competitive advantages and increased product integration for maximum efficiency through Fabrication Information Modeling".