Tekla Road Show - Salt Lake City
Date

18th May 2017

Location

Salt Lake City - Hilton Hotel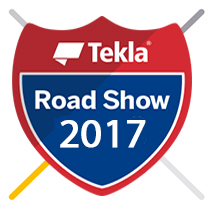 The 2017 Tekla Road Shows are coming to a city near you! Trimble will host a 7-city road show tour to showcase all the latest and greatest developments from Tekla Structures 2017. These events will bring together leading Tekla Structures users in the steel, construction and engineering industries for an information-packed day of educational sessions and enlightening discussions. Don't miss your opportunity to network with your peers and members of the Tekla Structures support and development teams! With 7 different dates and venues, choose the time and place that's best for you!
The Tekla Salt Lake City Road Show will be held at the Doubletree Suites by Hilton Hotel Salt Lake City Downtown on May 18, 2017 from 9 am - 5 pm.
Click here to register.
Benefits of BIM Integration with STRUMIS
Project and manufacturing data can be seamlessly passed for full production management though the factory and engineering office. Linking with Tekla Structures and STRUMIS adds an extra dimension to the way detailers work, especially in regards to change management. Being able to enquire upon items like purchasing and production information without having to pick up the phone and having that live information on demand is a huge benefit for everyone involved in the project.
This integration can provide you with the competitive edge required to succeed in reducing your costs and maximizing your profits!
Learn more about this bi-directional link:
How to make your business process more productive

How to utilize data from structural model in the fabrication process

Utilizing real time data for decision making

Optimize efficiencies in your plant

Deliver your steel projects on time and most importantly in budget