Dragon Steel Did Their Research
When Dragon Steel started out back in 1988, they were using MS Excel which, like many fabricating shops, they soon outgrew. As they continued to develop, Dragon Steel needed a production control software specifically for structural steel fabrication. They initially purchased a management information system (MIS) but it simply didn't work for them and wasn't user friendly. After trying another system that also missed the mark, the search then continued and after a few 'dead ends,' Dragon Steel were introduced to STRUMIS. Upon seeing the capabilities and business benefits Dragon Steel says their decision was made instantly. As President, Ervin Tarkhanian, of Dragon Steel explains, "It was a no-brainer to choose STRUMIS for the plethora of features, flexibility, and the right price point."
The Right Choice
Dragon Steel say the benefits they saw once STRUMIS was implemented, were immediate when it comes to saving time and the efficiency in the materials and supplies procurement stages. Ervin shares that, "It takes a fraction of the time to find, coordinate, order and track materials than it used to, saving us a lot of time and this translates into saving costs." Dragon Steel feel that the flexibility of the software and the software module are also amongst its most appealing aspects, in addition to its integration with Tekla, which means they no longer need to enter any data manually.
Ervin added, "…the inventory tracking & efficient nesting has eliminated additional waste and afforded us the ability to easily use inventory no longer needed on one project, on another project, while keeping complete traceability."
When it comes to the STRUMIS Estimating module, you get a module which is ready to use and designed specifically to meet the needs of the estimators. For Dragon Steel, the Estimating module enabled them to estimate accurately for projects and successfully win bids.
No trips back and forth from the shop to the office with STRUMIS
One of the many benefits of STRUMIS is that it uniquely has an integrated 3D modeling communication tool that enables one to visually track, enquire and communicate with all parties of the project lifecycle. This is very helpful to Dragon Steel as it allows their crew to visualize some of the more complex connections or fittings, ensuring correct assembly. Ervin comments, "[as] BIMReview is included with STRUMIS we don't need […] extra trips back and forth from the shop to the office to view complex connections." This in turn saves Dragon Steel so much time!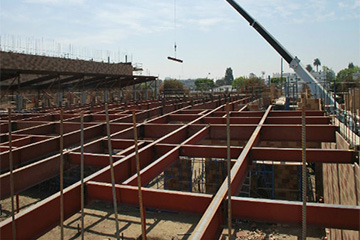 A Sporting Advantage
Dragon Steel are currently in the midst of 2 large gymnasium projects which have space-frame truss designs. "We've done plenty of gymnasiums, and they're usually pretty straight forward, however with the space frame design of the trusses, there are over 4000 individual piece marks, with STRUMIS, keeping track of the production stages of each of these pieces is a breeze."
"As a smaller, family-run fabrication shop, I don't believe we would be able to handle the type and scope of work that we're currently performing if it wasn't for STRUMIS. We're able to track items and timings so accurately, that the empirical data analysis through STRUMIS allows us to further steer our company in the right direction to stay nimble and efficient in an ever changing and evolving market." Dragon Steel
STRUMIS - The Global Solution
STRUMIS Management Information System software is truly a global product. Appealing to companies across the continents, yet managing to be true to our ethos of staying approachable—with our personal touch we get to know each and every one of our clients, their organization's needs— we work together to find solutions to help fabricators grow their revenue. Our software is industry-specific, so our expertise level is second-to-none. We know how to make sure businesses can save on time and costs, all with ease.