Billington Structures Ltd employ 'Just in Time' strategy with the help of STRUMIS
For all steelwork fabrication businesses, increasing raw material costs present a significant burden and can, if not managed properly, result in substantial finances being tied up with inventory, leading to wakened cash flow through inefficient management of the production cycle.
'Just in Time' is a production strategy that aims to maximize business returns on investment by minimizing process inventory and associated carrying costs.
For steelwork fabricators, a 'Just in Time' production strategy would generally involve the preliminary reservation or ordering of material. Once the final production requirements are received, the fabricator can then call off material by consolidating what has been reserved. The associated benefit of this is that long lead items are ordered by the supplier, with Mill orders now completed through the stockist. Consequently, materials are available when they are required, with the additional advantage that the material is purchased at the price at the original reservation time, often resulting in cost savings.
A 'Just In Time' philosophy is adopted by many users of STRUMIS to maximize the business advantages that this approach can deliver. With the added benefits of traceability and process control, STRUMIS also enables materials to be managed more proficiently. Fabricators can also simultaneously profit from materials optimization through reducing raw materials wastage and streamlined inventory levels through 'Just In Time' production strategies, procurement and associated logistics.
Inventory Management
In order for a business to run efficiently, it is vital to ensure that the cash flow associated through inventory is not squeezed, whilst optimum materials must be in place to allow the smooth running of production to deliver contract performance.
Just in Time Solution
STRUMIS offers an instant overview and the management of all materials across multiple locations, including control of details for each section type, with transaction reporting and trend/Supplier analysis. By using STRUMIS for inventory and purchasing management, Billington Structures and other users benefit from:
Comprehensive control of stock levels and effective dates.
Detailed inventory transaction reporting and multi location management including supplier sites.
Materials prelim and automated purchase order generation.
Instant overview of all materials on order enabling all materials and inventory to be handled efficiently.
These facilities combined enable a 'Just In Time' strategy to be adopted and used effectively to deliver business efficiency to production from optimized inventory and procurement.
Traceability of inventory is provided through the provision of a complete inventory management system in STRUMIS including non steel items and multi location materials management including supplier sites or materials on order. Similar results are achieved through the control of stock levels and effective dates with detailed inventory transaction reporting.
Purchasing and Suppliers
Structural steel construction businesses need to purchase wisely and efficiently to deliver successful returns. However, due to often complicated multiple simultaneous project requirements, the structural steel purchasing function is critical to business success.
Solution
The STRUMIS purchasing and suppliers module features allow the management of Suppliers and integration of Purchasing – with pricing, nesting and purchase orders all generated automatically with all costs allocated to the project for future cost analysis.
Such benefits could also be achieved through the implementation of Electronic Data Interchange (EDI). This approach is adopted by Billington Structures and through Electronic Data Interchange (EDI) with their supplier they achieve material optimization and automatic generation of cutting plans.
Conclusion
STRUMIS enables departments' data to interact seamlessly. This facilitates transparency of production requirements and gives companies such as Billington Structures the information to optimize inventory management and procurement for a 'Just In Time' production strategy. With the added benefits of traceability and process control this strategy can deliver many business advantages to the steel fabricator.
Billington Structures Ltd is one of many STRUMIS users who have adopted a 'Just In Time' philosophy through STRUMIS to increase their business advantage. A spokesman for Billington Structures commented; "We were an early adopter of STRUMIS and are extremely pleased with our investment.
By linking our Inventory with Procurement and Production, STRUMIS enables agile procurement based on optimized project planning and shop floor routing, such that materials are ordered and delivered just in time. This results in better time management and cost savings for our business. STRUMIS has indeed strengthened and enhanced our materials logistics process enabling superior administration of our production cycle.
Projects:






Derby - New multipurpose sports
arena

Derby - New multipurpose sports
arena

London - Bevis Marks, domed roof
Tower block







London - Bevis Marks, domed roof
Tower block

St George's Park – National football
park, Burton upon Trent

St George's Park – National football
park, Burton upon Trent

About Billington Structures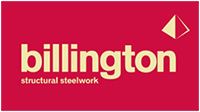 Billington Structures is one of the UK's leading structural steelwork contractors with over 60 years of experience in dealing with projects from simple building frames to the most complex structures in excess of 5,000 tonnes.
Billington Structures has plants in Barnsley and Bristol with the capability to process 15,000 tonnes of steel per annum and to service clients at locations throughout the UK and Europe. Billington Structures pride itself for engaging in several areas of the structural steel marketplace, delivering outstanding and renowned services; adjusting production and specification to meet the constantly changing demands of a varied and diverse market.

About STRUMIS

STRUMIS is an all-encompassing steel fabrication business management solution that harnesses the information flow and work processes through steelwork contracts between departments, suppliers and clients; from estimate tendering, through procurement, inventory and production into construction. STRUMIS steel fabrication management information software is for engineering and fabrication companies who are looking to implement a dedicated fabrication management information system to manage across all departments including multiple sites or even across supply chains.